Hello!
It's been awhile. Too long.
You know how sometimes life is just going too fast and everything's changing and you can't keep up to catch your breath, much less blog? This is the opposite of that.
Everything in our lives seems stagnant right now, and all the efforts we make to move forward have so far been fruitless. It's hard not to get discouraged, but we've found ways to make sure we keep our priorities where they need to be and also take the time to stop and smell the roses. I haven't written on here because I felt uninspired, but just making a few changes in my routine has made some huge improvements, so I thought I'd ease back into writing by discussing them here:
No news. . .is good news.
We stopped watching the news on a regular basis. It's nice being able to catch snippets here and there about the big, important things going on in the world, but without having to sift through the white noise and constant chatter of politicians spewing ignorance and hate. This little change has gone a long way to improve our moods and our ability to deal with the frustrations that we face while working in customer service.
More Good News
In
my last post
I mentioned that I set a goal for myself to read the Bible in a year. I was doing well for a few months, but eventually I reached a point where it became something on my to-do list that I just wanted to get over with. I usually intended to do it right when I got home from work, but if I didn't feel like it, I would push it off by procrastinating (i.e. watching Netflix), and then feel
guilty
for reading anything else until I had read my daily Bible readings.
About the same time, I realized that I was miserable in the mornings. Working at a coffee bar means I wake up stupid early most of the time. Usually as I ate breakfast, I would browse Twitter and become increasingly depressed and angry at the world. I tried to read my Bible in the mornings on occasion, but most days I didn't have enough time to finish that day's section and then I would be extra disgruntled and rushed.
I decided to do something
completely crazy
and get up an extra 15 minutes early every morning. Which means 3:10 am some days, and 5:10 am other days. It was crazy for me, and I knew it, but I had to try it.
Oh, how sweet it has been!
Beginning the day with scripture, whether or not I am 100% awake to fully appreciate it, puts me immediately in the presence of God. I am
filled with
hope
in His Word and not
losing hope
in humanity. I am not really any more tired, and in fact I find myself more at peace and prayerful as I go about the rest of my day. The rest of my day has more purpose and fulfillment, more order. And when I get home from work, I don't have that guilty nudging to read the Bible hanging over my head. I can read more if I want, or go back and re-read it with a slightly more aware state of mind, or I feel free to pursue other things, like the many writing projects I have started or reading a fictional book or exercising. And I've done a lot more of all of those things!
Books I've Been Reading
It can be hard to get back into reading when you've been out of the loop for awhile. Once I find a good book though, I have a hard time putting it down. Two of the books I read recently were recommended to me and I liked both a lot, the third I picked up for free and it was a total bust. That said, I am now taking recommendations for good books! On my list currently are
The Blue Castle
by L.M. Montgomery (thanks, Justine!),
Brideshead Revisited
by Evelyn Waugh (I was supposed to read it in college, but didn't get far past the Spark Notes...oops), and
The Hate U Give
by Angie Thomas (thanks, Morgan and Margaret!).
Recently read:
Wonder
by R.J. Palacio (thanks, Kathleen!)
This was a very sweet story about a middle school boy with a facial abnormality who goes to school for the first time. It's told from various viewpoints which add depth to the story and the characters. I recommend reading it before the movie comes out in November!
The Storyteller
by Jodi Picoult (even though it was free, no thanks!)
I was really into this book. Despite weak character development and therefore underdeveloped relationships between characters, I was still intrigued by the narration of this story which explores the lives of both a former SS soldier and a survivor of Auschwitz. Both are fictional, but the details written from extensive research provide a tiny glimpse into what life was like on both sides of the concentration camp. It's not easy to read at times, but I kept going hoping for a good resolution. I won't give away the details, but ultimately weak character development leads to a pitiful "twist" that's only a twist because
it's so incredibly inconceivable that this character would do what they do.
I was angry for days, but hey, it motivated me to jump back into my own fiction writing so that I can write something better! So that's something.
Small Great Things
by Jodi Picoult (thanks, MIL!)
This was an interesting story about a black labor and delivery nurse who was ordered not to touch the baby of a White Supremacist. The baby dies anyway and since the nurse was there when it happened, she is charged with murder. Told from the perspectives of the nurse, her white lawyer, and the White Supremacist, it provides a timely glimpse into how race is treated both in the justice system and our society. Again, Picoult's characters are flat and stereotypical at times, but it's a very interesting story and a good starting point into the issue for someone like me who has grown up white surrounded by white people and doesn't understand how/why racism is still a thing.
So again, I'm taking recommendations, but my husband has asked that they be happier. I think he's tired of me yelling and crying at my books.
The Writing Life
Because (insert one or more of the
many
excuses I have made to explain why I haven't developed a disciplined writing routine, i.e. my inconsistent work schedule, my lack of a perfect writing space, my inability to pick one of the many writing projects I have started and focus on one, etc.), I am still working on developing a really consistent, disciplined writing life. However, like I said before about how changing my morning routine to accommodate time for Scripture reading has given me more order and freedom in my day-to-day life, this has been leading to more and more times where I sit itching to write. Also, like I mentioned above, reading poorly written books lights a fire in me and motivates me to want to do it better.
With real motivation, I've been working on sitting down to write for an hour each day, whether it's one of my novels, a nonfiction piece, or this blog. My hope is that as I continue to practice, my stories will begin to unfold and I will find a good direction to follow a piece that I may actually finish. The key will be keeping it a priority that I make the time to write!
We have a joke of the day at work,
and I get a lot of mine (like this one) from @ThePunnyWorld on Twitter.
I love this husky.
Diddly Squats
Exercising is not my thing, but of course, I try to get some in regularly. I am not by any means a yogi, but I find that I feel better when I do yoga or even just stretch at least once or twice a week for 30 minutes. I had a few videos of routines I like that move at a decent pace and aren't too long, but I eventually found it hard to focus when I had the videos memorized and just wanted to get through the routines. Since yoga is a meditative activity as much as a physical one, I decided to go full-on Catholic nerd and incorporate spiritual meditation with my yoga. I found audio of people reciting the rosary (on YouTube) and I started doing my yoga while praying the rosary and meditating on the mysteries. It's a win-win situation.
And a bonus for all that reading I'm doing now? The library is within walking distance, so whenever I finish a book, I go for a little walk to drop it off and pick up a new one if I need to.
Other Random Things
We have been cooking at home more which has helped us feel more settled (and full of delicious foods). And as of right now (knock on wood), we are without a next door neighbor in our apartment, so the small second floor balcony is all ours. We made it a home for our pepper plants and herbs as well as some comfy chairs. We've gotten to do a lot more porch-sitting in the evenings either talking or reading or heckling the passers-by like Statler and Waldorf.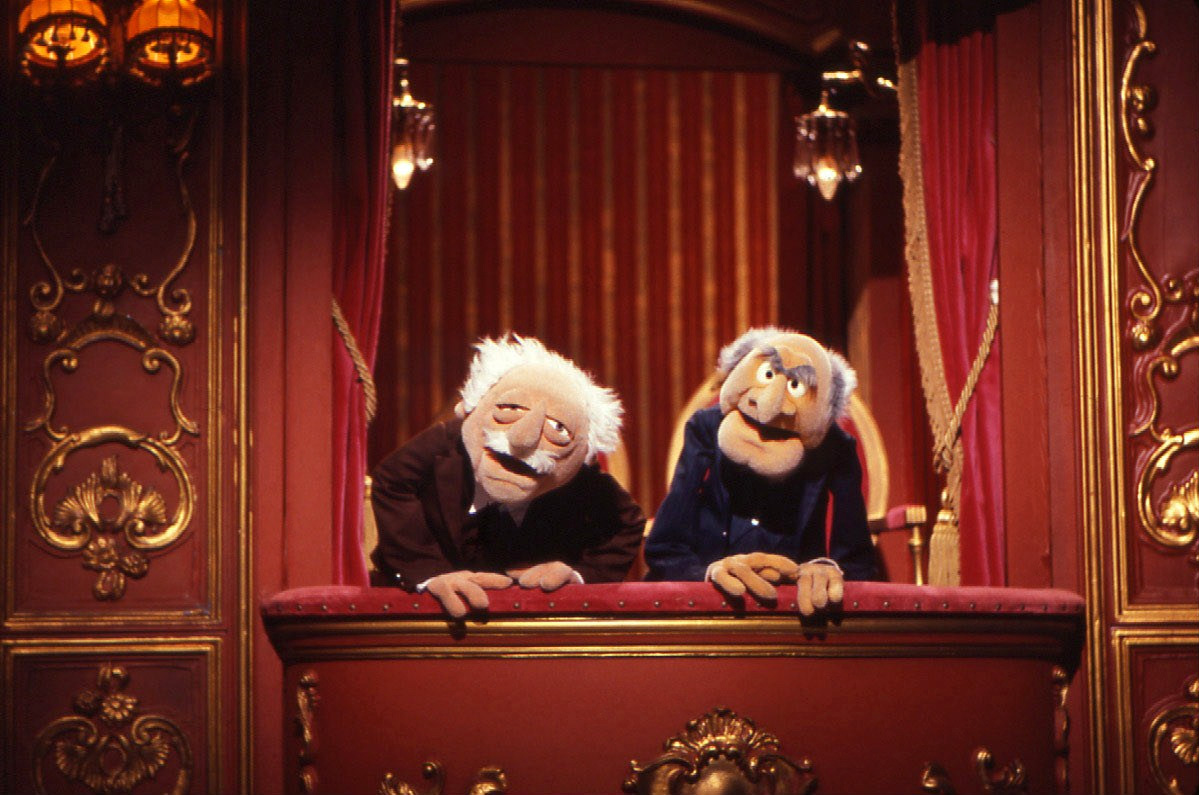 "It's good to be heckling again."
"It's good to be doing anything again."
"Doh-ho-ho-ho!"
Overall, not much has changed in terms of the big things, but the little changes we're making have helped us approach life's daily trials with a little less anxiety and a lot more hope.
"Let me hear in the morning of Your merciful love, for in You I put my trust.
Teach me the way I should go, for to You I lift up my soul." (Psalm 143:8)